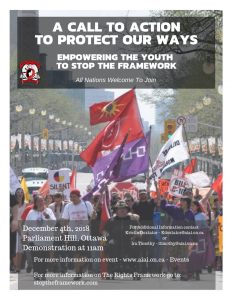 Each nation willing to participate is responsible for their own members transportation.  We will be having set up at 10am at Parliament Hill and the demonstration begins at 11am.
We will be having various speakers at Parliament Hill to address the Rights Framework and how it will affect us such as Association of Iroquois and Allied Indians  Deputy Grand Chief Gordon Peters.
A.I.A.I.'s Grand Chief Joel Abram will be MC'ing the event along with Lela George.  Please watch this space as well as our FB page – https://www.facebook.com/aiai.pto/ – for updates
After the demonstration on Parliament hill we will be walking along a designed route to go to the Assembly of First Nations, being held at that time at the Westin Hotel Ottawa, to make our voices heard to the assembled Chiefs on our concerns about the Framework.
You are more than welcome to join us and more details will come as we get closer to the demonstration.