SEPTEMBER 2, 2015 | LONDON, ON – First Nations youth from across Ontario gathered in London this week to learn about healthy relationships, traditional teachings, and safety in their communities. The Raise Her Up gathering, hosted by the Association of Iroquois and Allied Indians (AIAI), aimed to empower boys and girls to understand healthy family relationships and ways to promote safety in their communities.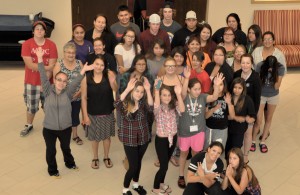 "We hope this event inspires our youth," said Deputy Grand Chief Stonefish of AIAI. "We want them to feel grounded in their teachings, and use those teaching to build strong and healthy relationships with each other. We also want them to feel confident as leaders in emergency situations and bring those safety lessons back home to their communities."
The conference featured cultural workshops for the youth including moccasin making, medicine walks, creation stories, and drumming.
Constable John McDonald of the London Police Services and Director of Threat Ready also provided a half-day session on safety and emergency preparedness for the youth.
McDonald drew on examples including 9/11, recent crime in London, and other global emergencies to teach the youth about real world survival skills.
"The people who survive are the ones who make decisions," McDonald said to the youth while sharing the story of Rick Rescorla, a former United States army officer who saved 2,700 lives it the World Trade Centre as the head of security for Morgan Stanley.
"We developed this event for our youth out of a need to address violence in our communities," added Stonefish. "We cannot effectively address violence, specifically gender-based violence by working with women in isolation, as we have typically done in the past. We need to bring our boys and girls together and teach them how to respect each other, how to relate to each other, and how to understand their roles in their communities."
The event welcomed 30 youth aged 12-17 from seven First Nations across Ontario.
###
ABOUT AIAI
AIAI is mandated as a Provincial Territorial Organization (PTO) to defend and enhance the Aboriginal and Treaty rights of our seven member First Nations. Our member nations include: Batchewana First Nation, Caldwell First Nation, Delaware Nation, Hiawatha First Nation, Mohawks of the Bay of Quinte, Oneida Nation of the Thames, and the Wahta Mohawks. Learn more at www.aiai.on.ca, on Twitter @AIAI_comms and on Facebook.
CONTACT
For more information, please contact Suzanne Morrison at smorrison@aiai.on.ca or 519.281.6238.