On March 22nd AIAI will be holding a special rally on World Water Day.  We want to spread awareness on how bottling companies are taking everyone's water and selling it back to us.  It damages the environment, steals from communities both environmentally and economically and they make billions while only giving back a small amount.
We will be gathering at Victoria park at 11am on March 22nd, and than marching through the streets to Harris Park where a sacred ceremony and prayer will be held to honor the water.  All are invited to join with us to give volume to our voice and tell the world about the injustice being done.
More information will be made available as further develops.
You can also check out our sister website www.ourspirtsourlaws.com for more information on how this affects us all.
You can download a copy of our poster to share World Water Day Poster 2 (PDF version)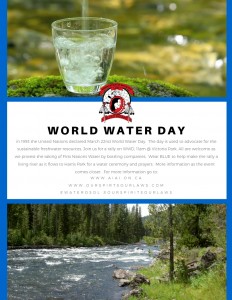 You can also download our fact sheet here to share Water Fact Sheet