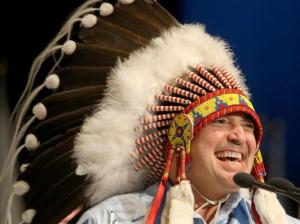 Perry Bellegarde has been announced as the new National Chief of the Assembly of First Nations (AFN) following an election at the AFN convention in Winnipeg this week.
"On behalf of the Association of Iroquois and Allied Indians I would like to congratulate Chief Bellegarde on his successful campaign," said Grand Chief Gord Peters. "I look forward to working with Chief Bellegarde on a number of issues including the education portfolio."
Bellegarde was sworn in early Wednesday afternoon in Winnipeg after defeating Ghislain Picard, the regional Chief for Quebec and Labrador and Leon Jourdain, Chief of the Lac La Croix First Nation in Northwestern Ontario. Picard held the position of interim National Chief following former National Chief Sean Atleo's resignation in May of this year.
Chiefs from across the country gathered at the three-day convention to address several issues including inadequate funding models for education, and violence against women.
Rinelle Harper, a 16 year-old student from Garden Hill First Nation in Manitoba, added her voice to the call for an inquiry into missing and murdered Indigenous women in Canada. Harper was brutally assaulted and left for dead near the Assiniboine River last month. Her remarks at the AFN convention are the first time she has spoken publically since the attack. Harper received a standing ovation from the Chiefs and delegates in attendance.
---
ABOUT AIAI
AIAI is mandated as a Provincial Territorial Organization (PTO) to defend and enhance the Aboriginal and Treaty rights of our seven member First Nations. Our member nations include: Batchewana First Nation, Caldwell First Nation, Delaware Nation, Hiawatha First Nation, Mohawks of the Bay of Quinte, Oneida Nation of the Thames, and the Wahta Mohawks. Learn more at www.aiai.on.ca, on Twitter@AIAI_comms and on Facebook.
CONTACT
For more information, please contact Suzanne Morrison at smorrison@aiai.on.ca or 519.281.6238.