Background: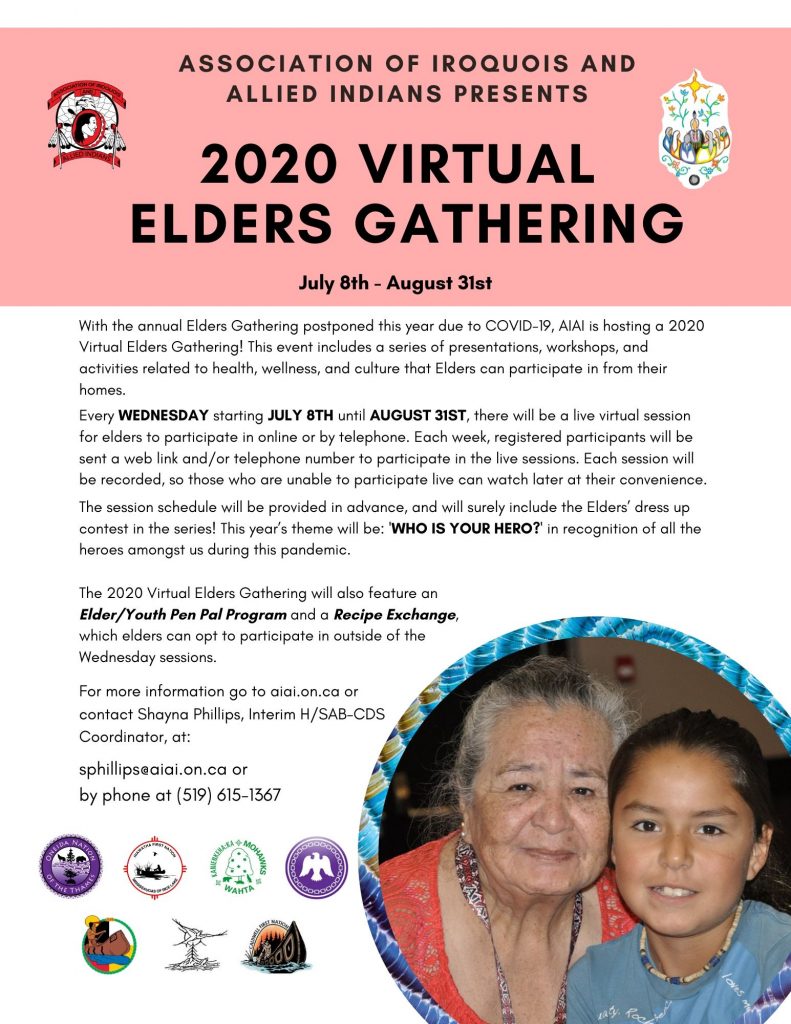 As per the recommendation of the Health/Social Advisory Board (H/SAB) and the approval of the AIAI Chiefs Council, the 2020 Annual Elders Gathering has been postponed until 2021 due to the COVID-19 Pandemic. In order to continue to engage the Elders and ensure their input can continue to guide our work, AIAI will be hosting a 2020 Virtual Elders Gathering.
What we are doing:
Every WEDNESDAY at 10 a.m., starting JULY 8TH until AUGUST 31ST, AIAI will host a live virtual session that elders can participate in online or by telephone from the safety of their homes. Each week, registered participants will be sent a web link and/or telephone number to participate in the live sessions, but each session will also be recorded, so those who are unable to participate live can watch later at their convenience.
The weekly session schedule will be provided in advance and will cover a variety of topics pertaining to health, wellness, and culture. The usual Elders' dress up contest will be included in the series as well with the theme 'WHO IS YOUR HERO?' in recognition of all the heroes amongst us during this pandemic.

The 2020 Virtual Elders Gathering will also feature an Elder/Youth Pen Pal Program and a Recipe Exchange, which elders can opt to participate in outside of the Wednesday sessions (flyers will be sent to your attention via a separate email from Ira Timothy, AIAI Communications Coordinator).
When:
Live sessions will run every WEDNESDAY at 10 a.m., starting JULY 8TH until AUGUST 31ST. Participants will be given ample notice of the topic of the session via the completed schedule.
Each week, a link will be sent to the participants that have registered so they can participate.  A recording of each session will be made available and copies mailed to the member Nations to share with their Elders at their convenience and according to their own safety protocols and precautionary measures.
Click on the 'Download' button below to download a registration form and send to Shayna Phillips at sphillips@aiai.on.ca
Recipe Exchange:

To encourage sharing between our communities, AIAI will be making its first Elders Cookbook composed entirely of recipes submitted to us by the Elders in our member Nation communities.

We are putting out the call to Elders to share your favourite recipe to be included in the cookbook. We are hoping Elders will include a story or a memory tied to the recipe that explains why it's so important to them, what occasion it is best for, or why it is so delicious! Elders are also invited to submit a picture of the dish, so everyone can see what it looks like. We look forward to seeing and sharing your recipes and very much appreciate every submission. All will be included in the book if received prior to the deadline. The deadline to submit a recipe will be JULY 31ST, 2020.

Please send your recipe along with any related stories/memories and pictures to itimothy@aiai.on.ca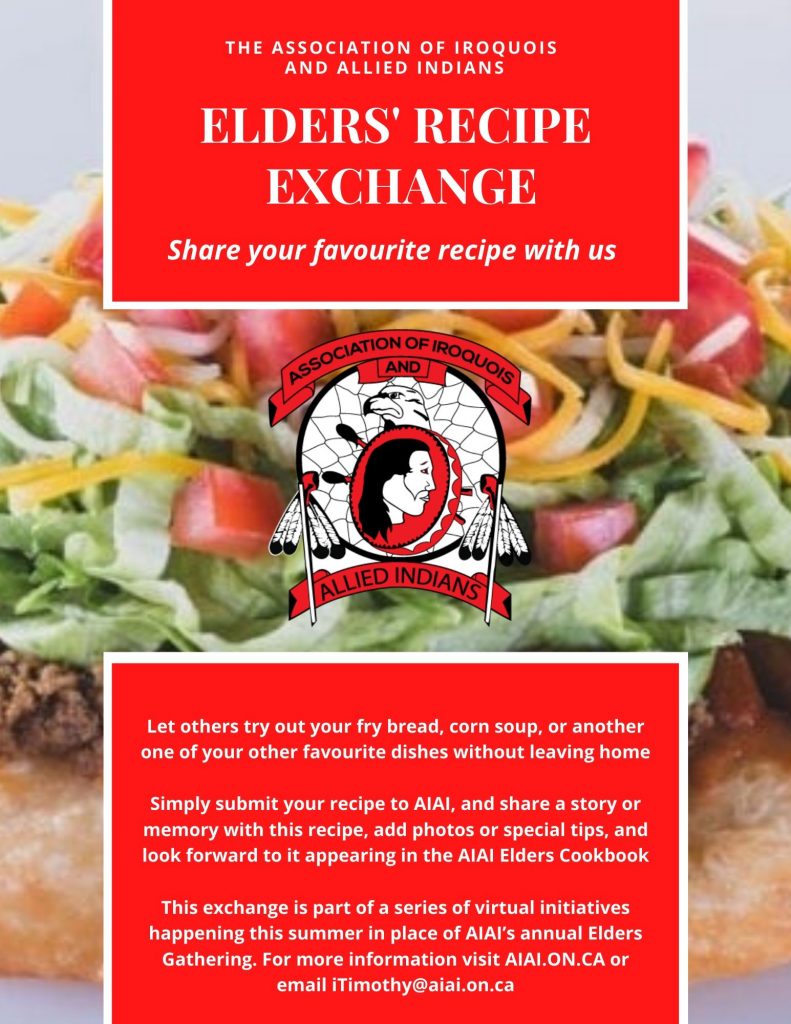 Once complete, the cookbook will be printed, bound, and distributed to all AIAI communities.
Elder/Youth Pen Pal Program
In the spirit of increased youth involvement, the Elder/Youth Pen Pal Program is designed to pair up youth and elders from different AIAI communities. Registered participants in this program will be paired up at random and exchange letters sent by snail mail. It is our hope that this older style of communication will encourage learning and sharing about each others' communities and generations, and increase interaction between Youths and Elders through the exchange of stories, thoughts, and experiences.

Many seniors are not very comfortable with technology and newer forms of communication and enjoy having something they can read, hold in their hands, and treasure. The youth, who may be new to letter writing, will get to experience the joys of this slower type of communication. In addition to letters, participants can send drawings, crafts, or other mementoes as they get more comfortable.
Once a registered, youth will be provided with the name and address of their pen pal to initiate the exchange. We suggest a simple one-page letter to introduce themselves and say hello to their new Elder pen pal. AIAI will follow up with registered Elders one month into the program to ensure that their new pen pals have been able to get in touch.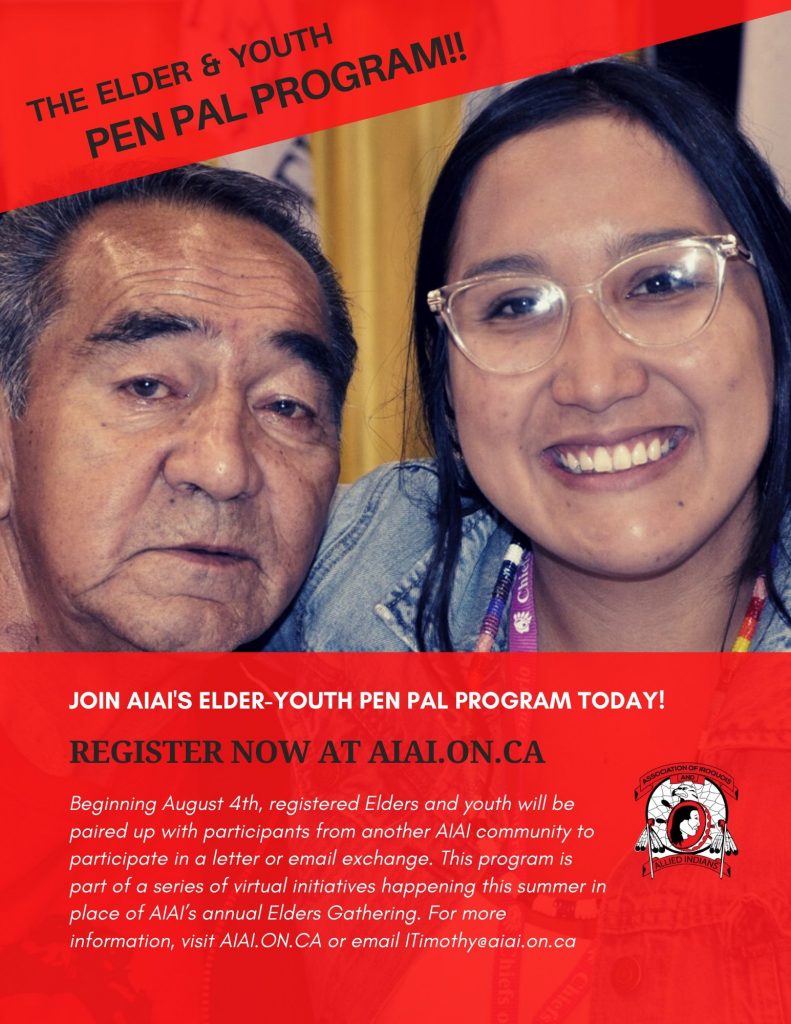 Should you have any questions regarding the virtual Elders Gathering, please do not hesitate to contact Shayna Phillips, Interim H/SAB-CDS Coordinator, via email at sphillips@aiai.on.ca or by phone at 519-615-1367.