The Batchewana First Nation (BFN) is getting ready to celebrate the repatriation of their ancestral remains returning to their homeland.
In 2010 the Batchewana First Nation and Sault Tribe of Chippewa Indians worked in collaboration to bring the remains of their Native Ancestors from the Smithsonian Institution back to rest in their traditional burial grounds.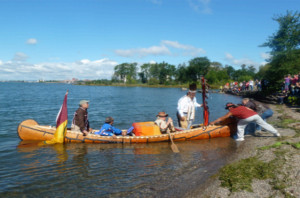 The Sault Ste. Marie Band of Chippewa Indians is a federally recognized tribe with the standing to make repatriation requests under the National Museum of the American Indian Act. For this reason it was not until the Sault Tribe was planning to repatriate some of their own ancestors when they were notified that BFN also had remains on site at the Smithsonian Institution.
The process for the release of the remains was quite extensive, and included a number of multifaceted cultural ceremonies.
First, a group of First Nation delegates comprised of Elders, Youth, and Spiritual Leaders journeyed to Washington to receive the remains but not before making several stops to ensure the traditional components were addressed. The group participated in tobacco and sage picking and harvesting at spiritual, the products of which would be used in the traditional reburial of the remains.
Back at home in Sault Ste. Marie another group of Elders and Youth were working on the construction of   birch bark canoe. The canoe would be the vessel to travel from Sault Ste. Marie, ON, to Sault Ste. Marie, MI to receive the remains.
On Thursday August 19, 2010 a large group of spectators gathered at Bellevue Park to watch the canoe return the Batchewana First Nation's ancestors back to Canadian soil.
Batchewana First Nation Chief, Dean Sayers says he was touched by the respect and honour paid to the procession, "As we travelled from Sault Ste. Marie to Goulais Bay we were escorted by city police and were pleased to see several streets closed off for us. There were people stopped on the sidewalks taking off their hats and watching as we passed. It was touching to see our ancestors receiving the honour they deserved."
A traditional burial ceremony took place at Goulais Bay, complete with a hounour song from the drum, and a pipe ceremony. Spectators were amazed when 6 eagles participated in the closing of the ceremony by flying overhead when the remains were interred.
5 years later, Batchewana First Nation Chief Dean Sayers says he still feels overwhelmed when visiting the site, "The remains were stolen in the 1800's by Canadian and American officials, and we recognize the struggles our people have faced then and now. Tomorrow we will celebrate the resilience of our nationhood and focus on continuing to work on protecting our lands and people to ensure these horrific things never happen again."
The Batchewana First Nation will be commemorating the repatriation on Wednesday August 19, 2015 with a ceremony at the Goulais Bay Traditional burial ground, and conclude with a feast at the community centre. Everyone is welcome.