Today Justice Logan dismissed 20 of the 22 counts in the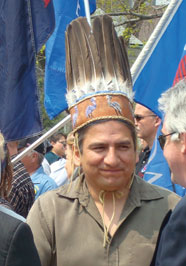 Gargantua Harbour (Nanabozhung) matter involving Batchewana First Nation (BFN), and Chief Dean Sayers.
The trial has been ongoing since charges were laid by the MNR in 2008 when the First Nation attempted to reconstruct an access road to their traditional territory for cultural and ceremonial reasons.
While Batchewana First Nation is primarily affected by the ruling, the decision will also have profound impacts on First Nations across the country in their ability to assert their jurisdiction and access their traditional territories.
Chief Sayers commented on the ruling, "Today we've gotten to see our Treaty Rights upheld, and that is a small victory for our First Nation, and for all First Nations".
BFN's defence was based on the aboriginal arguments, which is that Batchewana First Nation has an aboriginal right that has been infringed by the Lake Superior Provincial Park and the preclusion of access to the Gargantua harbour.
Over the course of the trial Batchewana First Nation citizens have testified to the need to access the harbour for fishing; the significant cultural use of the area; and the negative impact the park and the road restriction has had on the First Nation.
In addition to citizen's testimonies, the First Nation engaged the help of experts in the field to provide reports and testify to the historic cultural significance of the area that is essential to maintaining BFN's heritage and identity.
Justice Logan's ruling today was an affirmation of the Batchewana First Nation's Treaty Rights, and substantiated what the BFN leadership believe, are the means to get these rights affirmed in a Provincial Court of Law.
BFN leadership hosted a press conference outside the courthouse, where Chief Sayers had this to say, "As a First Nation that has always been progressive asserting our Rights it is encouraging to be positively affirmed by the Justice at this Court level. It is all to often that we are promised one thing and granted another.
We hope this ruling sends a clear message to the Province that prohibiting First Nations from accessing their Territory will not be condoned. We hear instances every day of gates and barriers being constructed in order to keep First Nations out, we have never accepted this, and we are encouraged to see Ontario's justice system reaffirm that."